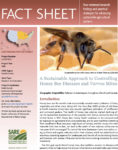 A Sustainable Approach to Controlling Honey Bee Diseases and Varroa Mites
This fact sheet describes efforts to breed honey bees, Apis mellifera, resistant to diseases and parasitic mites to reduce the amount of antibiotics and pesticides used in bee colonies and to ensure that our breeding methods and stock are accessible to beekeepers everywhere.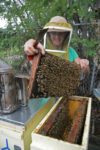 Cutting Edge Research: Helping Bees Help Themselves
Diseases, pests and the mysterious phenomenon of colony collapse disorder pose a dire threat to the U.S. beekeeping industry and, in turn, to the $20-billion-a-year crop industry that relies on insect pollination. Because of these increasing pressures, the ranks of managed bee colonies have plummeted in recent years: On average, beekeepers are losing 30 percent […]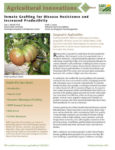 Tomato Grafting for Disease Resistance and Increased Productivity
Researchers around the world have demonstrated that grafting—the fusing of a scion (young shoot) onto a resistant rootstock—can protect plants against a variety of soil-borne fungal, bacterial, viral and nematode diseases invarious climates and conditions.