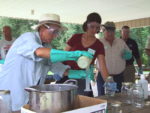 Sustainable Bioenergy Course
In association with an NCR-SARE Professional Development Program grant, the Bioenergy Training Center, in collaboration with the Farm Energy CoP, has developed a Sustainable Bioenergy Course to provide educational training resources focused not only on the technical feasibility of bioenergy generation, but also on approaches and processes that assist communities in understanding the comprehensive implications of bio-based alternative energy. This course can provide foundational materials for teaching undergraduates or for community education sessions.

Applying for the Conservation Stewardship Program (CSP)
This plain language guide discusses eligibility and the application process for the USDA-NRCS Conservation Stewardship Program (CSP).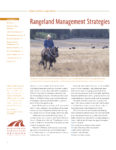 Rangeland Management Strategies
Features innovative SARE-funded research on creating and sustaining a healthy range.