Success with cover crops relies on carefully planning how to fit them into your cash crop rotation.
One of the biggest challenges of cover cropping is to fit cover crops into your current rotations, or to develop new rotations that take full advantage of their benefits. One crop rotation system might be easily adapted to fit your existing crops, equipment and management. Other systems may point out ways that you can modify your rotation to make the addition of cover crops more profitable and practical. Read more. (Note: this article is from the book Managing Cover Crops Profitably.)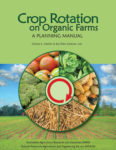 Crop rotation strategies that can be applied under various field conditions for conventional or organic crops to improve soil quality and health, and manage pests, diseases, and weeds Download File (1.97 MB) | Online Text Version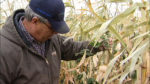 Dan Forgey describes how he grows cover crop mixes in synch with a cash crop of corn, and gets strong yields without chemical fertilizer.
Also, visit SARE's database for reports on these research projects:
Dig deeper into cover crops research: SARE has funded hundreds of research and education projects related to cover crops since 1988. This topic room features only a glimpse into SARE's entire portfolio of cover crop research. To discover more, visit SARE's database of projects and conduct full text or advanced keyword searches.