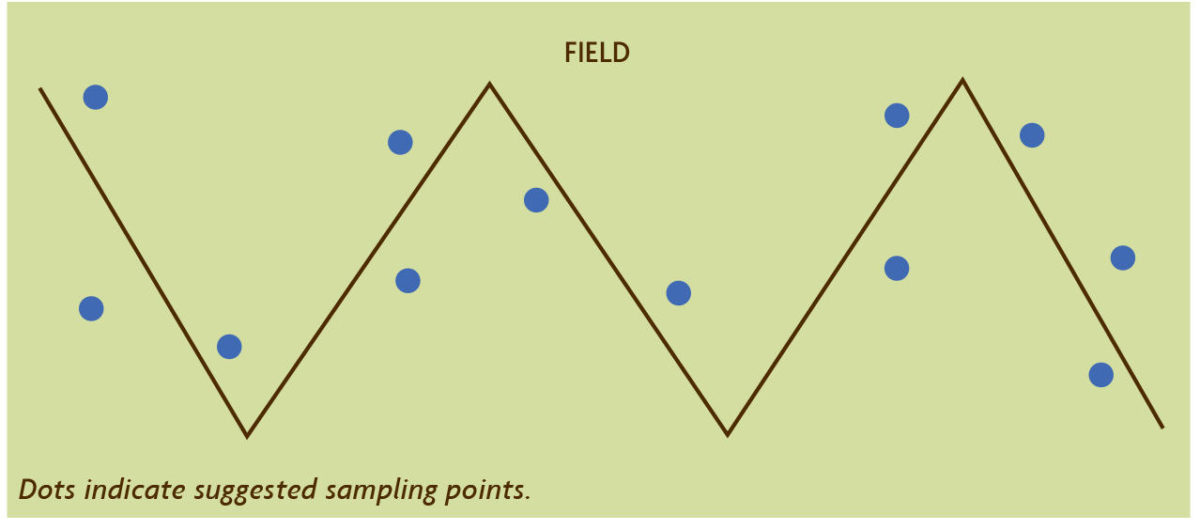 The first step in any pest management plan is to properly identify and assess the pest and beneficial species that are inhabiting your farm. Assessing pest levels is especially important when considering the use of pesticides because it informs both the type of pesticide needed for your specific pest and whether they are at levels threatening enough to need an application. Make a habit of getting out and regularly scouting your fields, high tunnels and greenhouses. Examine plants and the soil below for pest insects, weeds, diseases and their accompanying symptoms and disorders. Look for beneficial insects such as generalist predators and parasitoids. Here are a few broad guidelines for scouting your fields for pests and beneficial organisms:
Scout early and often. Weekly is a good rule of thumb, but consult with local experts and production manuals to make informed decisions.
Make a map of your field, high tunnel or greenhouse and inspect individual plants following a zig-zag, W or X pattern at a predetermined number of locations throughout the area.
At each location, look for signs of pest activity by carefully examining all plant parts, including upper and lower leaf surfaces, growing points and fruits. Examine the soil below for weed seedlings and insect pests.
Consult with local Extension agents, field manuals or local university departments to confirm any signs of pests and beneficial species you have identified. This is important because two pest species may resemble each other but may require different management strategies. Pests may also resemble beneficial species.
Keep a detailed log of pest and beneficial species you find, where and when. Be sure to record important information related to crop growth stage, pest abundance (e.g., number of insects per plant, number of weeds per row) and their life stages. For diseases, use a simple rating scale to measure severity of disease symptoms. Over time you can use these notes to anticipate the arrival of pest species and, if needed, plan the appropriate controls.
Pay special attention to pest-prone areas. These include field edges, waterlogged areas and high-traffic areas where pests are more likely to colonize. Use regionally available forecasting applications like Penn State's PestWatch, Oregon State's USPest or Cornell's Network for Environment and Weather Applications to forecast the arrival of specific pests.