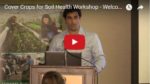 Cover Crops for Soil Health Workshop
All session recordings and slide presentations from this three-day professional development workshop are available online. Hosted by Northeast SARE and Delaware State University in March 2016, this event addressed the latest research on the benefits and successful management of cover crops in grain, vegetable and animal production systems.
Farmer Panel on Cover Crops
Farmers Skip Paul (Rhode Island), Jeff Frey (Pennsylvania) and Perry Lilley (Maine) share their experiences with cover crops, including their motivation for using them, successes and challenges, factors that play into decision making around cover crops, and advice for ag service providers who want to encourage farmer adoption of this vital conservation practice.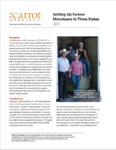 Case Studies on Setting Up Microloans
Information for lenders financing new and expanding farm businesses with limited access to capital.