SARE Outreach publications highlight SARE-funded research results.
Showing 1-20 of 143 results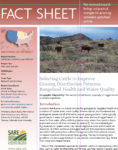 Selecting Cattle to Improve Grazing Distribution Patterns, Rangeland Health and Water Quality
This project is the first and only study that we are aware of that has evaluated whether grazing distribution has the potential to be improved through intensive breed selection. Most of the management approaches currently used to increase grazing uniformity, such as water developments and fencing, can resolve livestock grazing distribution problems on both private and public lands. However, these practices usually require large capital expenditures.