SARE's Four Regions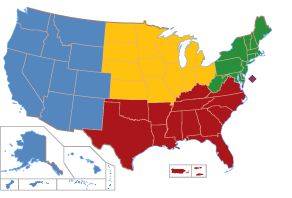 The Sustainable Agriculture Research and Education (SARE) program is a decentralized competitive grants and education program operating in every state and island protectorate. The program is run by four regions—North Central, Northeast, South and West, each guided by a volunteer Administrative Council that makes grants and sets regional priorities. The councils include farmers and ranchers along with representatives from universities, government, agribusiness and nonprofit organizations. Technical reviewers, also volunteers, lend professional and practical experience to help councils evaluate project proposals.
Since 1988, SARE has funded more than 6,700 projects through its regions, including research and education grants, professional development grants and producer grants. Depending on the region, applicants also can propose projects under special grant programs for graduate students, community development practitioners and ag educators conducting on-farm research.
Click on the map above to visit your region's Web site, where you'll find regional grants, state program, and other information.