Agronomic Row Crops
Hitch Steer Guidance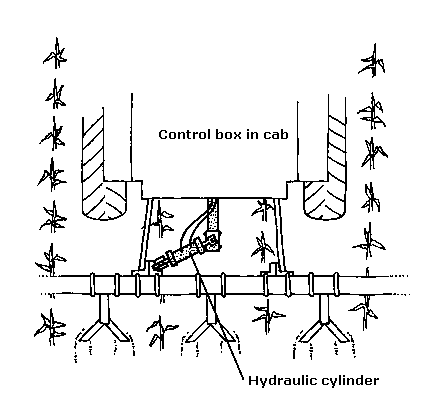 (electric sensing, hydraulic adjustment)
Overview: Using a simple electric switch, this system provides dependable service with readily available parts. It tracks tool position relative to the row with crop-sensing wands, then compensates for tractor drift by hydraulically adjusting the cultivator toolbar left or right. Stabilizing coulters may be used on the cultivator but are not required. Remove sway blocks so that hitch arms may move freely, permitting the cultivator to stay positioned on the row despite tractor deviation. System does not influence tool's operation, but crop plants have to be stiff enough to activate sensor.
Design Features: A sensing unit with mechanically triggered micro-switches monitors the crop or a furrow. It signals a solenoid-operated hydraulic valve when the cultivator moves off-center. The valve controls a double-acting, 8" hydraulic cylinder bolted to the tractor drawbar by a special channel-iron bracket. The other end is most often attached to the implement toolbar at a weld-on connection at one of the hitch plates. The low-pressure (500 psi) system works well up through 30-foot-wide cultivators on moderate (2 to 4 percent) slopes. The kit includes a cab-mounted control box with indicator lights, weighs less than 100 pounds, and works with or without a quick hitch.
List price: $2,000 (excludes cylinder and hoses)
Sources: 1