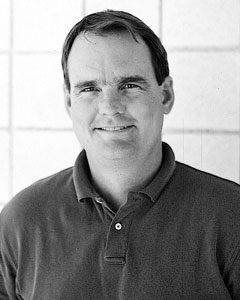 Agronomic Row Crops: The Farmers
Guided Precision Tools Finesse Whole Fields Faster
Gary Thacker
County Extension Agent and researcher
Tucson, Arizona
Thacker developed prototype combination implement to increase cultivation efficiency
Coordinated on-farm trials and loans of prototype throughout Arizona's 400,000 acres of cotton
Weed management highlights
Strategies: Cultivation-based weed control in commercial irrigated cotton... reduced herbicide use
Tools:In-row weeding tools (vegetable knives, crescent hoes, Bezzerides tools) mounted on a heavy-duty, straight-shank cultivator equipped with an articulated automatic guidance system
Arizona cotton farmers with high-residue cultivators equipped with in-row tools and a precision guidance system find they can cover more acres per hour and kill more weeds than with the cultivator alone.
Guidance accessories that keep cultivator units aligned with the crop row increase operating speeds, while in-row tools lightly work soil next to and even between crop plants. Combining these options on a strong single-sweep cultivator greatly expands mechanical weed management capacity, reports Gary W. Thacker, an Extension agent for agriculture in Pima County, Arizona.
He uses two types of tools from the Bezzerides line to uproot in-row weed seedlings. Torsion weeders are light, stiff steel rods mounted with a flexing loop base, and spring hoe weeders are flat steel springs.
Both devices use a pair of opposing arms, each arm working alongside and lightly pushing against one side of the row area just beneath the soil surface. Spring tension allows the arms to uproot weed seedlings between plants but move around well-developed crop stalks.
Torsion weeders, which are able to move vertically to conform with the soil contour, are gentler than the more aggressive spring hoes, Thacker reports. He says both tools can control in-row weeds in 4-inch-tall upland cotton - plants too small to withstand the impact of flowing soil moved into the row from cultivators or disks during the customary 'dirting' to smother weeds.
He mounts a pair of these in-row weeders as the third of four soil-engaging tools on a heavy-duty, maximum-residue cultivator or straight shank cultivator. First comes disk hillers set 3 inches on either side of the row to cut and throw residue from the row area.
Next he knocks out weeds and sedges in the area between the disk-hiller swath and the outside edge of the crop plants. He's used crescent hoes - thin tines that curve at right angles to the row direction - to shear off weeds within 1.5 inches of the row. Thacker aims tips inward to the row, rather than the customary outward orientation, to reach under larger cotton plants. Gauge wheels must control the depth of the tool to keep it above seeding depth and away from plant roots, he notes. The crescent hoes also break up the smooth, firmed soil wall left by the disk hiller, allowing the trailing in-row weeders to work more effectively in loose soil.
Beet knives (also known as vegetable knives or delta knives) work even better than the hoes in this role, he discovered in '96. These are one-piece attachments resembling a half-sweep with a vertical fastening plate and a single thin, flat arm. Thacker also mounted these tools to run outside-in, running the trailing tip within 1.5 inches of the row. He emphasizes that adjusting to even minor row-width variation from planter to cultivator is critical in this type of ultra-close cultivation.
Only a narrow 1- to 2-inch bridge of soil in the row remains undisturbed after the initial tools pass. The in-row weeders described above pass through the soil next to crumble this strip, uprooting young weeds without disturbing rigid cotton stems. 'Large cotton can tolerate very aggressive in-row weeding, which will kill virtually all weed seedlings and even some larger weeds,' Thacker says.
Spyders (curved-tooth wheels bent from plate steel) - a third type of tool from Bezzerides - can run ahead of the in-row tools to break up the soil surface, but don't work as well as disk hillers to clear the way through tough patches of Bermudagrass or nutsedge, Thacker reports. He runs 14-inch, one-piece sweeps in the row middles.
He can manually steer the rig at about 3 mph, but cruises at 5 mph or more when he uses a Buffalo Scout articulated electro-hydraulic guidance system. He can cover 8 to 10 acres per hour with his six-row rig as the in-row tools and sweeps snuff out virtually all weeds across the swath.
Cotton plants can withstand aggressive in-row weeding once they reach the 'pinhead square' stage at about 8 inches tall. 'You see the plants wiggle when the rods nudge the stalk just below the surface, but they're fine - as long as you run shallow enough to avoid cutting feeder roots.'
Thacker demonstrates his high-speed, multi-tool rig on the road throughout Arizona cotton country. Farmers watch it work and see its potential to cut their weed management costs. One grower said, 'My hoeing crew costs $1,000 a day. This machine will cut that expense in half.'
Editor's Note: Gary Thacker resigned his Extension post to start Pegasus Machinery Co. of Tucson, Ariz. The firm manufactures a one-pass implement that Thacker helped to develop to bury unchopped cotton stalks as it reforms beds.