The following publications are available in print from SARE Outreach.
Showing 1-20 of 37 results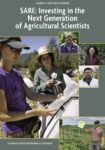 Investing in the Next Generation of Agricultural Scientists
Sustainable solutions to today's agricultural challenges arise when scientists, educators and producers work together to test theories in real-world, on-farm situations. For this approach itself to be sustainable, there must be opportunities for the next generation of agricultural scientists to use collaborative, applied research to address the real-world needs of farmers and ranchers. The SARE Graduate Student grant program is one such opportunity—since 2000, the program has supported the work of 600 master's and Ph.D. students.