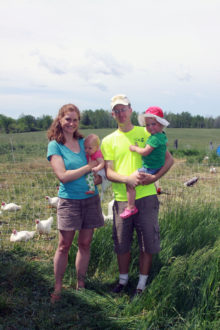 Melissa, Linnea, Jason and Annabelle Fischbach (left to right), of Ashland, Wis., like the small scale and minimum requirements of pastured poultry. Photo by Beth Probst
Like many family farmers, Jason and Melissa Fischbach and their three children work hard to produce a living off of their diversified Wild Hollow Farm in Ashland, Wis., integrating vegetable production and poultry, and raising their birds on pasture. "There's a good profit margin raising chickens and turkeys on grass," said Jason, "as long as you know your inputs, get your prices right and keep your mortalities low."
The small scale of pastured poultry, along with its quick turn-around and minimal equipment needs, attracted the Fischbachs to raising poultry on pasture. The needs of the family played a big role as well. "As fairly new farmers with little kids, we felt that the chickens were much safer with the kids around, compared to cattle or sheep."
Jason, who is also an Extension agent for the University of Wisconsin, began raising pastured poultry when the local farmer already doing so quit: "We sniffed out an opportunity to make a profit," said Jason. At the same time, two other farming families recognized the same opportunity. Facing similar challenges, the three farms chose cooperation instead of competition and formed Pasture Perfect, LLC, a pastured-poultry cooperative. According to Jason, "Once all the farms joined together, everything changed for the good. We were able to buy in larger quantities, saving money, and help each other with processing." Pasture Perfect also received a grant from USDA's Sustainable Agriculture Research and Education program (SARE) to evaluate different feeding options to fine-tune their day-range production system.
Pasture Perfect sells around 1,500 birds per year directly from their farms, netting around $2-$6 per bird in 2011, and their poultry is in high demand. The cooperative also markets 2,000 birds, processed at a USDA-inspected processing plant, through community-supported agriculture, at farmers markets and in local stores. Pasture Perfect prefers to sell the birds directly off the farms though, not only because the profit margin is much higher, but, as Jason said, "Living out in a rural area, working on the farm, you don't get to see a lot of people, so it's nice having our customers picking up their orders on Sundays. It gives us a chance to meet our customers and show them where their food comes from."
The consistent, profitable market is just one incentive for the Fischbachs, their partners and poultry producers across the country. Add in other win-win benefits—amending soil with poultry manure and improving pasture sward and diversity, especially when paired with grazing by ruminants—and it is easy to see how outdoor poultry systems are meeting the needs of producers across the country.
"Birds on pasture make it easier to graze other kinds of livestock on those pastures, or to think about vegetable production that doesn't need a boost from chemical fertilizers," said Allan Nation, editor of Stockman Grass Farmer. "Before you know it, you've got a diversified operation that makes it simpler to earn money from several efforts, all of them working in concert, and all of them making your farm and your environment stronger. Pastured poultry drives the train."
This bulletin is about boosting your farm's profitability and health with pasture-based poultry systems. Read on to learn more, and consult the list of alternative poultry production resources for a wide range of general information, publications and online materials.