This section includes organic seed production guides, handbooks, tutorials and books that can assist you with growing your own organic seeds. The resources also provide information on the challenges of, and need for, organic seed production.


A series of eight handbooks for new farmers or established producers seeking to transition to organic or improve their current practices. Print only; order from Chelsea Green.
This project provided agricultural professionals with more knowledge of organic seed, soil management and sustainable business practices. From the trainings, a webinar and tutorial were developed.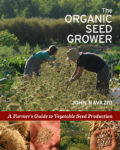 The Organic Seed Grower is a comprehensive manual for the serious vegetable grower who is interested in growing high-quality seeds using organic farming practices.
Additional Resources
The following resources, which were not funded or produced by SARE, contain valuable information.
ATTRA Seed Production and Variety Development for Organic Systems
Seed Testing International: Challenges for the Production of High Quality Organic Seeds