Resources in this section are designed to help you with the organic certification process, one of the most important steps in transitioning your farm to organic. This section includes information on USDA organic certification, organic certification agencies, USDA regulations and organic certification cost.
A series of Power Point presentations developed for ag professionals on the principles of organic farming, building soil quality, and managing weeds, pests and diseases.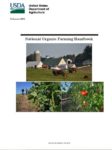 This thirty-page resource was developed to support NRCS conservation planners and other agricultural professionals as they work with organic producers. The handbook describes organic systems and identifies key resources to guide conservation planning and implementation on organic farms. Producers and other audiences may also find the handbook useful, particularly the resources listed in various sections.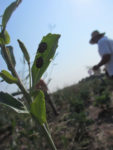 An interactive website to help ag professionals develop successful organic education programs.
Additional Resources
The following resources, which were not funded or produced by SARE, contain valuable information.
USDA Organic Certification (USDA Guide with many popular questions about organic certification)
USDA Organic Certification Cost Share Programs (USDA provides organic certification cost share opportunities for organic producers and handlers)
USDA Accredited Certifying Agents (USDA resource for finding accredited certifying agents in your state or area)