Every successful business follows a formula for achievement, and that formula starts with setting goals. In fact, people who write down goals earn nine times as much over their lifetimes as people who don't, says Dave Kohl, professor emeritus at Virginia Tech and a well-known business consultant. Yet, 80 percent of U.S. residents say they don't have goals, 16 percent have goals but don't write them down, and only 4 percent write down their business and personal goals.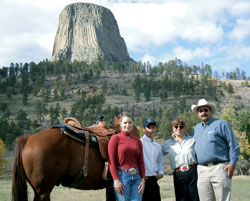 In agriculture, every consultant touts the same message: What do you want in life? Yet, many producers miss that message and set production goals such as weaning weights, carcass quality or pregnancy percentages instead of thinking more broadly about how they want their ranch to contribute to their lives. The Western Integrated Ranch Education program (WIRE), begun in 1992 and funded by SARE two years later, helps spread the goal-setting message.
WIRE, a combined effort by Wyoming, Montana, Colorado, Idaho and Utah Extension, teaches ranchers to manage the complex factors that influence every agricultural business. Adapted from the Texas Total Ranch Management program, WIRE better fits conditions in the West, integrating the physical, financial, biological and human resources within each farm or ranch operation. Instructors hope participants walk away with a plan to focus all of their resources toward specific personal, family and business goals. SARE funded instructor-team trainings and program expansion.
"Participants are generally more open to new ideas and are not as threatened by the changes that seem to be ever increasing in our rapidly globalizing economy," says John Hewlett, a farm and ranch management specialist at University of Wyoming who coordinates the WIRE effort. "Put another way, they are empowered to steer their agricultural enterprises toward the goals they see themselves achieving."
In setting individual goals, range managers should start by considering:
How they want to spend their time
What they want for their families
What they want to accomplish in life
Then, they should consider how their range and other resources can contribute to those goals. When applying goal-setting principles to ranching, landowners should realize above all else that every ranch is different. Each must be managed according to the needs of the natural resource base as well as personal goals.
Jim Freeburn, a rancher and director of SARE's Western Region Professional Development Program and the University of Wyoming's Sustainable Agriculture Research and Extension Center, stresses the hard work involved. "You pretty much get out of life what you put into it," Freeburn says. "If you want something, you have to work hard, sacrifice and make a long-term dedication to a cause."
Wyoming rancher Ogden Driskill's father was the one who realized 30 years ago that their ranch was the linchpin holding the family together.
"Our family has been on this ranch for 130 years now," says Driskill, who ranches near Devils Tower National Monument and won a SARE grant in 1995 to improve rangeland health. "Our top priority is perpetuation of the ranch as a tool for future generations. That goal changes our approach to management and inheritance issues."
Goals help people stay focused and proactive, creating a clear path to results instead of allowing a shotgun approach to vague possibilities. They clarify what is important and provide a basis to evaluate decisions and actions.
Driskill's goal to keep the ranch in the family led him to redefine his ranch's worth, focusing on the land's contribution to his extended family's quality of life.
"This ranch is a tool for family members to utilize for their lifetimes," he says, because the ranch will not be sold.
Once a manager has established goals, the next step is to evaluate any and all resources, including:
natural resources – soil, water, range, climate and crops
livestock
wildlife
equipment
finances
most importantly, the people involved
A written list of goals and resources leads to enterprise decisions:
Which competitive advantage does the business enjoy using the available resources?
Would sheep fit the range better than cattle and be more profitable if they were rented out to manage weeds?
Can we improve marketing?
Is it better to make more money with a ranch recreation enterprise or accept the risks of an up-and-down cow-calf market to avoid dealing with dudes?
Driskill's Bearlodge Cattle Company supports three families, and the Driskills are working on creative ways to bring two more families back home. The Driskill family adheres to a rule that each additional family needs to generate about $40,000 in additional income from an enterprise before the ranch can support them. For example, Ogden's brother, Matt Driskill, operates a campground on the ranch to generate more income.
"Most ranches have the potential for additional income if you look at other opportunities besides raising livestock," Ogden Driskill says.
The next step is to make a plan to reach those goals. A complete plan lists action items for tomorrow, a year from now, within five years and within 10 years. Give every major change in a business three years to work out the kinks.
Driskill needed to increase carrying capacity on his ranch before it could support three families. Leafy spurge, a prolific noxious weed that propagates through roots and seeds, had reduced the ranch's livestock forage by about 80 percent. The most ecologically sound – and therefore best long-term – solution was to control the leafy spurge that covered about 95 percent of the ranch. With the help of a Western SARE grant, Driskill joined with his neighbors to develop a weed management plan through coordinated resource management. Their secret weapon: sheep.
"Until the grant, we were trying to control all of that spurge with chemicals," he said. "But chemical control doesn't make sense on large heavy infestations." They introduced a herd of sheep, which reduced the spurge to about 10 percent. "We're one of the few success stories of old-time infestations around here."
Driskill now runs about 700 sheep year-round. Two other neighbors also now use sheep for leafy spurge control.
Finally, a successful manager will periodically evaluate stated goals, adjust them if needed and plan again.
"The coordinated resource management was instrumental to us because it brought attention to a lot of things that we didn't see ourselves, but eventually realized had been there all along," Driskill says.