by Barb Baylor Anderson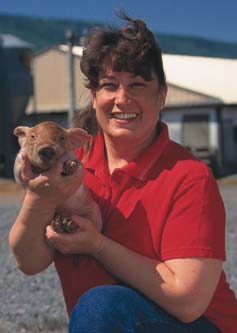 Barbara Wiand, of Mifflinburg, Penn., retails her farm's pork product from her back door, offering her an outlet for value-added pork and the opportunity to work from home with her young children close by. After their slaughter plant closed, she organized area pork producers to begin shipping hogs together to another plant, this one 175 miles away. That way, they could meet quota numbers and defray trucking costs.
She and her husband, Glenn, who were both raised on farms, live in a historic house they call the Olde Stonehouse Farm on 240 acres in central Pennsylvania. They raise 300 sows in a confinement crate system; each sow produces 2 1/2 litters per year. In groups of 20 to 25, their piglets remain in pens through finishing.
Previously, they sold pork under a contract, but fearing low hog prices and the changing structure of the hog industry would negatively affect their operation, Wiand began looking for ways to cover the risk. Beyond producing 7,000 market hogs per year, Wiand wanted a more rewarding outlet for pork. She began to research a marketing plan for value-added pork products, then used a SARE grant to put the plan into place.
'I felt value-added pork would increase farm income, allow us to maintain the same number of animals, improve the quality of life and continue to be active in production agriculture,' she said.
Wiand did research into all angles of the plan and set the basic framework for the business. 'It took nearly two years to develop the products, labels and retail site,' she says. 'It takes a lot of work to determine where to slaughter and package the meat and label and market it.'
She obtained a Pennsylvania Department of Agriculture certificate to sell meat as a retailer from her home and also participates in area farmers markets. A local USDA-certified packer processes the meat, which Wiand stamps with her own 'Olde Stonehouse Farm' label featuring a picture of the 1811 house. She has labels for 12 different products – smoked country bacon, Canadian bacon, boneless ham and specialty sausages among them – along with a generic label that can be used on fresh pork and even ultimately beef or lamb, if her business expands.
Wiand's retail shop, which is open Thursday-Saturday, is registered with the state department of agriculture. She currently slaughters one or two hogs per week for her local customers.
'Inventory management is challenging,' she said. 'It can be difficult to sell all of the cuts from every hog every week.' Wiand works with federal prison procurement officials to move pork at cost and is exploring opportunities to donate excess product to community shelters and nursing homes.
Reaching into the community and being able to help her family is the greatest reward of the business, Wiand said. 'I get to be with my kids and it feels good to be able to offer top-quality pork products to people. I am leaving my options open to grow the retail business or even explore ways to supply one or more major grocery chains in our area. Every step requires finding the right people to work with and convincing people your business is legitimate.'