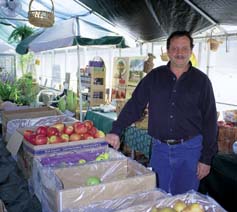 Connecticut Co-op Expands Organic Sales Statewide
Despite the soggy chill of central Connecticut in March, a steady stream of afternoon shoppers sidestepped mounds of snow to enter a farm stand bulging with fruit, potatoes and winter greens for their week's supply of organic fruit and vegetables. Much of the tempting array came from warmer climes, but Urban Oaks Farm managers Tony Norris and Mike Kandefer displayed a whole section of Connecticut-grown produce available through their involvement in a statewide organic growers cooperative.
Since 1996, the Certified Organic Associated Growers of Connecticut (or COAG), which Norris was instrumental in founding with support from a SARE producer grant, has enabled growers to co-market vegetables throughout the state. It's been a great channel for Urban Oaks Farm because Norris and Kandefer can augment their supply of what they grow best - greens, herbs, tomatoes and eggplant, among other vegetables - with crops better suited to other soil types. The onions, potatoes and garlic on display at their farm stand, for example, came from eastern Connecticut growers.
The re-selling arrangement is just one of the benefits Norris and Kandefer realize from their COAG membership. The co-op provides them with opportunities to network with like-minded farmers facing similar issues. The 25-member group also does collective purchasing, such as buying potting soil in bulk to lower costs.
"It took a few years, but everyone got to know each other well and developed friendships," Norris said. "It's a networking tool, but also a way for farmers to deal with issues collectively."
Norris and Kandefer perfected their organic farming techniques throughout the 1990s, when they leased land from a dairy producer in central Connecticut and devised a system based on long rotations of vegetables mixed with cover crops like summer buckwheat and winter rye.
Their pest management strategies were grounded in a generous "rest" cycle. They focused on raising fresh vegetables on three of four fields, with one left under cover crops for a full year to help manage pests and disease. Their rural setting, however, was far from major markets. In 1999, they leased land in New Britain, Conn., just outside Hartford, and launched Urban Oaks Farm.
Their new three-acre parcel is too small to allow for the generous "rest" cycles, so Norris and Kandefer rely more than ever on soil amendments such as green manure (annual rye and dutch white clover), mulches and a quadrant rotation. The cooperative marketing arrangement allows them to focus on growing what works well under their conditions. They expand their line of produce by re-selling co-op products.
Today, the farm's bustling market, just a stone's throw from enormous greenhouses, plays just one part of a diverse marketing plan that includes direct markets and a community supported agriculture (CSA) operation.
About 85 percent of the farm sales go to restaurants and retail stores, including the popular Wild Oats grocery and a corporate dining club in downtown Hartford.
"Even if you grow the best tomato in the world, if you can't sell it, the farm isn't going to work," Norris said. "There are too many farm stands, so we started selling directly to restaurants and stores."
While many farmers don't like the constant interaction required to meet the needs of chefs and produce managers, Norris, an avid cook, relishes the opportunity.
"We became the people who knew how to wholesale," he said. "You need to have a professional presentation, to think it through. It helps if you grew up in a family where food is a big deal. I can talk their language."