Don't know a hoop house from a greenhouse? Learn the basic ABCs of season extension.
High Tunnels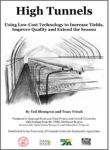 This manual on using high tunnels or hoop houses for season extension includes case studies, a supplier list and chapters on marketing, site selection, construction and types, and soil, pest and environmental management. Download File (2.39 MB)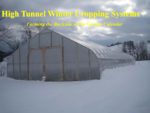 This audio/slideshow presentation by Lewis Jett, West Virginia Extension Service, is on the use of high tunnels for winter crop production, including design, temperature management, bed preparation, crop selection and seeding.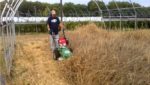 This video series was developed by Kansas State Research and Extension, and includes segments on the following topics related to commercial high tunnel or hoop house production:
Overview | Design | What to Plant | Basic Management Considerations | Intensive Management | Resources
Nurseries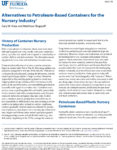 These fact sheets discuss alternative containers, marketing and crop selection, alternatives to synthetic herbicides and integrated pest management in commercial nursery plant production.
Additional Resources on Season Extension
The following resources, which were not funded or produced by SARE, contain valuable information.
Hoophouse Farming Startup: Economics, Efforts and Experiences from 12 Novice Hoophouse Farmers (a University of Michigan Extension bulletin)
Hoop Houses for Extending Your Growing Season (an NCAT webinar)
Hoop House How-To (a website of The Kerr Center for Sustainable Agriculture)
Iowa High Tunnel Fruit and Vegetable Production Manual (a 95-page workbook published by Iowa State University)
Minnesota High Tunnel Production Manual for Commercial Growers (a 179-page manual published by the University of Minnesota)